PUBLIC INPUT
Renaming Phase
22 September 2020
List of contents
Introduction
During the public input phase of the name change initiative, over 200 participants took part whether in person or online. This formed part as part of the broader Name Change Initiative, which undertakes institutional transformation, and which seeks to contribute to best practice in the Netherlands and internationally, lowering the threshold for further precedents.
Online Survey, completed by 134 respondents in Dutch and English
5 Public Forums, attended by 54 participants in Dutch and English
2 Workshops held with students of the Werkplaats and the Wkshps design agency
2 Workshops with Rotterdam agency Brand New Guys
The results of the public input phase were analysed in order to develop future-looking policies and processes as part of our institutional transformation, as well as towards establishing the name change criteria below. These findings were also provided to the external Advisory Committee, informing their assessment of three short-listed names that had also been developed through the Renaming Process.
The phase of Public Input was led by three key questions; How can our institution transform? How is this connected with social transformation? And what name can help to make this happen?
NAMING CRITERIA
POSITIONALITY – FOCUS
What do we stand for?
How did our old name call us to account for our position in regard to the past?
INCLUSIVITY – OPENENESS
The old name excluded important parts of Rotterdam, the Netherlands, and our communities.
How does the new name counteract this, and assert its audience relation?
LOCATION – VOCATION
Can a new name situate where we are in a meaningful way? The old name addressed our location but not our vocation.
RENAMING – REFRAMING
Renaming gives the opportunity of reframing the role of art in society, and of what an art institution is and does.
CHARACTER CRITERIA
LANGUAGE
Who does the name speak to, and how?
Our new name can better convey a relation with local and international audiences, and express that in the chosen language
ENERGETICS
How does it feel?
The new name should be energizing or imbued with energy, expressing our forward-looking, bold, and experimental reputation.
ACCOUNTABILITY
As we remove a name that caused us to be responsive to colonial history, how do we maintain accountability?
VULNERABILITY
How do we remain vulnerable as an institution?
Being open, nimble, and determined to learn, adapt, and change.
Name Change Initiative
In 2017, a group of cultural practitioners publicly challenged the name of the institution. They pointed to the name's association with unspoken narratives of Dutch colonialism. Their critiques catalyzed a public debate informed by larger decolonizing efforts underway in the Netherlands. These efforts foreground dissonant heritage and competing value systems. Their stance and activist work are shaped as much by new historical awareness, as by an increasingly multi-vocal society and a pressing concern of systemic racism. The institution acknowledged the critiques and, that year, decided to make a change to its name.
In January 2018, the institution launched a multi-faceted Name Change Initiative (see schematic summary below). The initiative proposed changing the character and composition of the institution. This was done so that the process of its new name would be informed by a more diversified team and group of stakeholders, both of which it had to develop and nurture. And, on the other hand, so that the institution's renaming would be one among several other actions towards making a deeper institutional transformation. The Name Change Initiative has impacted the institution's working culture and its artistic vision and program. Its tactics for arts mediation and public engagement have significantly changed, too.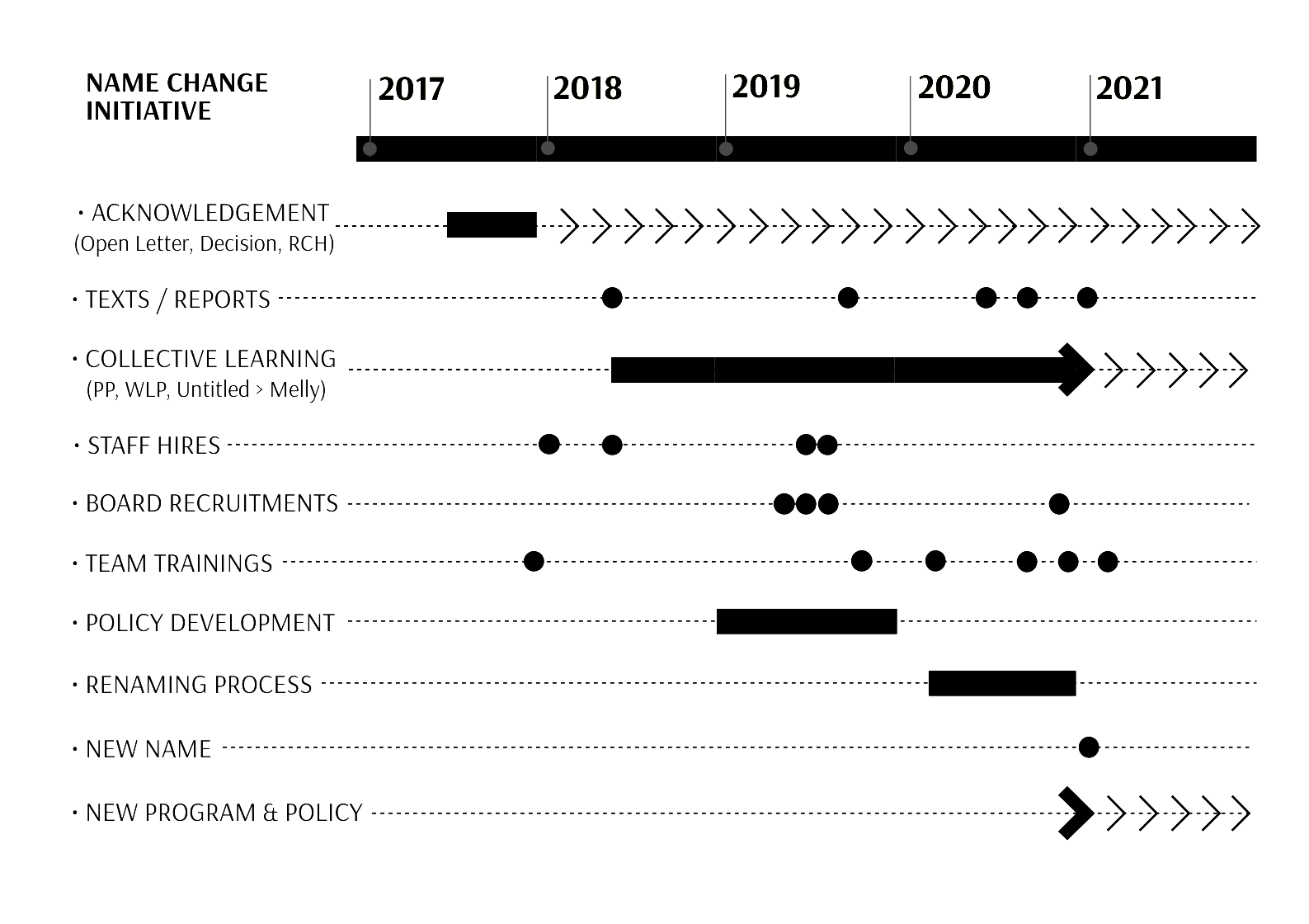 Renaming Process
The name ideas, criteria, and forward-looking policy development is based upon feedback coming from case-studies research, begun in 2018; naming-workshops, started in and held through 2020, with the team, as well as through working sessions with our name change initiative and collective learning partners, Brand New Guys, Werkplaats, and Wkshps; and, in 2020, a public input phase involving civic participation. The graph below details the steps and involvement of this public input phase.
In designing our initiative and processes, we have been inspired by two institutional case-studies: One is Yale University's Calhoun College renaming to Hopper College in 2017; the other is the renaming of Bristol's Colston Hall to Bristol Beacon, which took place from 2017 to 2020. Both institutions undertook a name change involving a research-based and years-long process. An internal case-study was undertaken in the 2019 renaming of Untitled to Melly, an art gallery at our institution turned multipurpose space. This process established our Collective Learning framework for welcoming and learning with multiple stand-points and knowledge bases.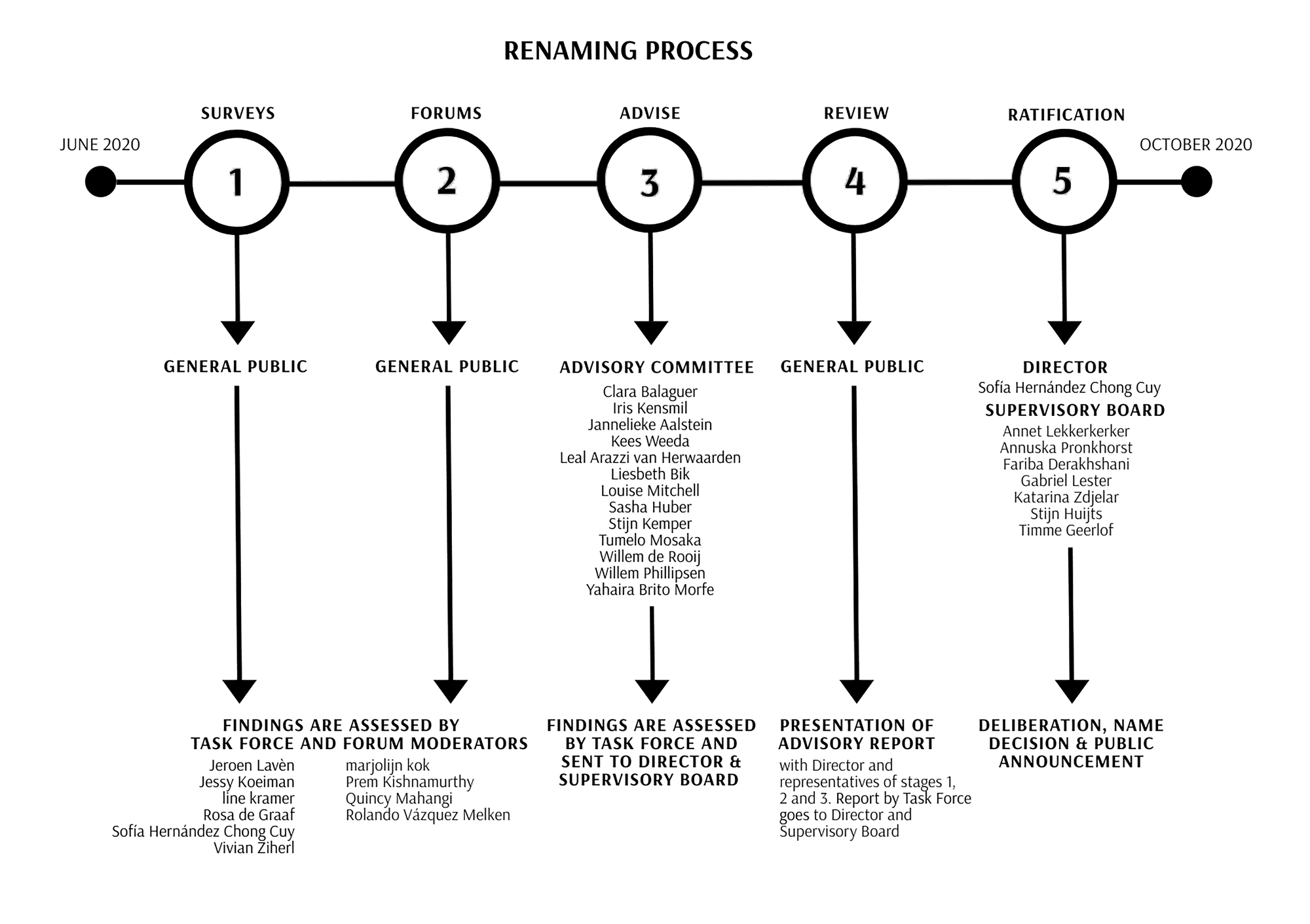 Forums & Open Survey
The Name Change Initiative Forums were focused and moderated sessions that directly impact our institutional transformation and the choice of a new name. Our big questions are: How can our institution transform? How is this connected with social transformation? And what name can help to make this happen?
The Forums had three focus areas:
"Legacies and Futures": These two forums were held in Rotterdam and focused on how historical awareness is part of our name change. When we remove the name "Witte de With", how do we continue to be historically aware and how does historical awareness inform our transformation?

Moderated (in NL) by marjolijn kok, who is a practicing archaeologist and archivist at FKA Witte de With; and (in EN) by Rolando Vázquez Melken, associate professor and diversity fellow at University College Roosevelt and affiliated researcher University of Utrecht.

"Naming and Communication": This forum focused on how the choice of name connects with institutional identity. What has the institutional identity looked like in the past, and what can perform in the future? How might a visual identity be part of social transformation and re-evaluation? This forum involved small break-out groups, and was held on Zoom.

Moderated (in EN) by Prem Krishnamurthy, a designer, curator, writer and teacher, and partner in the multidisciplinary design studio Wkshps in New York and Berlin.

"Engaging and Changing": These two forums were held in Rotterdam and focus on how our institutional transformation is connected with social engagement and social change. Who have we engaged in the past, who can we engage in the future, and how is our name part of this change?

Moderated by Quincy Mahangi from Guestwise, a consultancy that guides companies towards the creation of audience/guest experience through a people-driven mindset.

The Online Survey was designed for voicing ideas, creating perspectives, and identifying challenges as part of our name change. The online survey invited feedback as to our institutional transformation, which characteristics of the institution should be held onto or let go, how to connect our institutional transformation with social change, as well as naming suggestions and responses to how the naming is significant moving forward.
REPORT – FORUM 1
Legacies and Futures
Participants: 8
Moderator: marjolijn kok
TaskforceRepresentative: Jessy Koeiman
Note-taker: Veronika Babayan
Overview/Accountability: Sofia Hernández Chong Cuy
Report
Overall the forum discussed dominant historical narratives, their relation to the social curriculum of history and how that connects to people's lives in the current society and our institutions.Forum held in Dutch, participants were from different cities of the Netherlands and included people who had never visited the institution before.
Emphasis was given to education. On the one hand, participants mentioned that little to no information on colonial narratives and its consequences was provided in their schools. On the other hand, they addressed the importance of investing in education, curricular development and, most importantly, in educators themselves.
Social polarization was also discussed in relation to our current institutional context - that smaller initiatives create their own worlds and are often remain excluded from the bigger institutional history of the Netherlands. In other words, by remaining external to institutional contexts, the impact and legacy of grassroots and community-based cultural activities often stays on a small scale and social narratives don't shift.
The question was raised as to whether we are prepared for this type of institutional change and whether it is possible for anyone in our position to be fully prepared. In response, emphasis was given to the necessity of platforms that would encourage a continuous dialogue; and that the processes of preparedness for transformation were extended because it involved experiencing a culture shock and reckoning with its after-effects. One of the participants encouraged us to embrace institutional vulnerability, understanding that this is a long-term transformation.
There was a remark that a lot happens here but that it is not always visible. Stronger and better communication can result by providing more accessibility both to the institution and the programs it offers.
The tension between localisms and internationalisms, a rising sense of nationalism and its impact and definition and understanding of community was discussed. For example, who constitutes the "we" and who are "we"?
Findings assessed and summarized by Veronika Babayan, Sofia Hernández Chong Cuy, Jessy Koeiman, marjolijn kok and Vivian Ziherl.
REPORT – FORUM 2
Legacies and Futures
Participants: 13
Moderator: Rolando Vázquez Melken
Taskforce Representative: Vivian Ziherl
Note-taker: Veronika Babayan
Overview/Accountability: Sofia Hernández Chong Cuy
Report
Overall the forum focused on how the old name had created accountability to colonial histories and their present-day legacy, how un-naming could also be a process of un-silencing, and how a re-naming can continue this process. The Forum was held in English, including participants residing in the Netherlands, who were originally from Iran, Poland, South Korea, Germany, Mexico, Indonesia, Spain, Barbados, United States of America, and the United Kingdom.
Rolando and the participants stressed the importance of imagining an institution that maintains accountability and vulnerability, and conveyed that the announcement of the new name can be an umbrella to announcing new policies that map the constituencies and the mechanisms of engaging these. What curatorial practices can be implemented that would allow inclusivity and that are conscious of colonial structures?
It became evident from the discussion that this change is not about forgetting but rather about the reweaving and revisiting of the past. It would be desirable that the new name continues to maintain the accountability. As opposed to the 'silencing' character of colonial processes of naming, the new name is seen as an act of un-silencing by visualizing and positioning the institutional trajectory. In the criteria for renaming we present the dilemma of revisiting history and the task of un-silencing and visualizing both the past and the present, and imagining the future.
The renaming process should better identify the institution's constituencies: its public, partners, and its own process of accountability – to keep them alive and active.
Participants addressed that the name should not fall into a given neutrality and universality, for example a name such as "RCCA" (Rotterdam Center for Contemporary Art). It should rather move from the abstract to a grounded positionality.
Emphasis was given to the question of the new name being open to accountability, meaning the institution is always socially checked.
The discussion should move beyond "the name" (what) and evolve around "the naming" (a process) as we want to keep the historical awareness present, to stay in a process.
Findings are assessed and summarized by Veronika Babayan, Sofia Hernández Chong Cuy, Jeroen Lavèn, Rolando Vázquez, and Vivian Ziherl.
REPORT – FORUM 3
Naming and Communication
Participants: 23
Moderator: Prem Krishnamurthy
Taskforce Representative: Jeroen Lavèn
Note-taker: Veronika Babayan
Overview/Accountability: Sofia Hernández Chong Cuy
Report
Overall the forum focused on the relation of the name change regarding positionality, how the institution can be reframed through the change of name, along with a future looking approach to the name change and the energetic aspect of moving forward. The Forum is held online and included residents from the Netherlands, Hong Kong, Brazil, Greece, the United States, and the United Kingdom.
Everyone wants 'inclusivity', but what does this mean. Who specifically are the audiences of interest to your institution that are meaningful? Who is the community that you want to reach? Currently this is still unclear. We're aware that you're transforming but it's unclear how.
The name is substantiated by the program relevance and institutional form. The question is, will the content change? It is through the content that the institution is able to articulate its values, and the matters that you wish to nurture and hold onto.
A consideration is language - would the name be English or not? This factor is relevant to audience.
The institution is named after someone who caused harm. This name is a serious barrier because of its colonial history. The task of moving forward is to take another naming point, and energise it. What is the thread that binds everything and carries it forward?
There is a distinction between a cultural institution and a contemporary art institution. Perhaps the renaming is about redefining what art is and does 'here'. Therefore, the renaming also concerns the uses and position of artistic practice as integral to the reframing of the identity.
The matter of the time-period in which the institution has taken to re-name was raised.
There needs to be a strong positionality in the name changing. What does it stand for? How is this also honest to what the institution is and its concrete situation among resources, power-structures, social systems etc.
Some participants with white appearance and of an older generation who had long-standing affiliation to the institution continued to use the former name and when this was pointed out had a visible bodily reaction of discomfort.
Findings are assessed and summarized by Veronika Babayan, Sofia Hernández Chong Cuy, Prem Krishnamurthy, Jeroen Lavèn and Vivian Ziherl.
REPORT – FORUM 4
Engaging and Changing
Participants: 5
Moderator: Quincy Mahangi
TaskforceRepresentative: line kramer
Note-taker: Veronika Babayan
Overview/Accountability: Sofia Hernández Chong Cuy
Report
The main thematic of the forum was the definition of art and the role of art in relation to education, and how this relates to inclusivity both in the role of the institution and in what kinds of art are considered 'art'. This forum had a particularly engaged and intensive exchange. The Forum includes residents from Rotterdam and Den Haag.
What is art, you have to define what art is according to your institution and the place in society that you wish to inhabit. This relates to identifying the audiences you want to connect with. We need to know what art means to different people, in order to better communicate and facilitate it.
There is a generational shift, a younger generation among diaspora/immigrant communities that want to go to art spaces and be represented.
Gut feeling is important; if you have two names, one which you feel is right and one which you feel performs what is needed from you, then you have to go for the one that 'feels right'.
If your audience is white elite, then this effects how you communicate and there's no need for the name change. When your audience is complex you can't alienate either one part or another, and at the same time, you need to stay close to who you are. The building as a whole provides for the possibility of those different audiences. It seems unclear as to whether we are perceived as a 'museum' or 'established' institution, more so than the agile 'contemporary art space' that we identify with, and whether there's a certain responsibility that we haven't been using.
An audience member felt very strongly that the first exhibition following the name change needs to impress, and have a 'wow' factor so as to show what is behind the name. This is an audience expectation. Do something unexpected and exciting so that people are drawn to you.
It's important at the moment, and in the aftermath of the Black Lives Matter protests over the summer, to be able to take steps without 'showing off'. And, therefore, 'how' to communicate, which modes of communication are the right ways at the moment?
There is a demand to create an environment where people feel safe, currently one participant does not feel safe within the institution. 'Safe' for discussion and not just art. This is also in the political context of increasing tensions and polarisation.
Findings are assessed and summarized by Veronika Babayan, Sofia Hernández Chong Cuy, line kramer, Jeroen Lavèn, Quincy Mahangi and Vivian Ziherl.
REPORT – FORUM 5
Engaging and Changing
Participants: 8
Moderator: Quincy Mahangi
TaskforceRepresentative: Rosa de Graaf
Note-taker: Veronika Babayan
Overview/Accountability: Sofia Hernández Chong Cuy
Report
This forum was very concerned with linguistics, in a manner that regards accessibility. The forum had a manner of 'questioning the question' and included many who are in the art-world and highly familiar with the institution. The Forum includes residents from Rotterdam, Amsterdam, Brussels, Den Haag, and cultural backgrounds including Albania, Croatia, Dubai, India, Lithuania, and Turkey.
There was a strong conversation that the need is not to be 'ahead' of the curve, but to be 'meaningful', 'responsive', 'sensitive', and 'engaged'. Paradoxically, there was later an expressed expectation that the institution should be 'ahead of the curve', but that this should be redefined through meaningful engagement.
There was a criterion expressed of 'ethical consistency', questioning how an institution can achieve this. This requires defining the values of the institution, and thereby the values of a new name.
Innovation can be understood not as 'neoliberal', but as an expectation of being disruptive within set lines of thinking. Thereby 'disruptive' became a term of defining what the expectations of the institution were.
Rotterdam is not a city that is merely Dutch/English in its languages. Could diversifying languages also to Moroccan/Turkish create a new welcome, and set an agenda relative to the general standards of art institutions in the city at the present time?
For people to feel at home in an art center, exposure at an early age is important. How is (primary) school education a part of engagement?
This group felt that the program itself didn't need to change. The agenda should be accessibility rather than inclusivity; this means a) not alienating people, and b) recognising that you can't 'include all'. You can't please everybody, but you can listen to their concerns. It's also a question of how the space signals welcome or creates intimidation and discomfort.
The art is already difficult, so you don't have to make it even more difficult. With signage, language, and also a name. The name needs to be very clear from the outset. The name should be memorable; short (one or two syllables); pronounceable; should not be playful, or a joke (will be short-term and limiting), should not be the name of a person, could have a deeper layer of meaning.
Findings are assessed and summarized by Veronika Babayan, Rosa de Graaf, Quincy Mahangi and Vivian Ziherl.
REPORT – ONLINE SURVEY
Of the total 134 participants, thirteen were opposed to the change of name. Of these, twelve were Dutc. 68 participants declared white; the average age of the participants was 48.
The need for an ongoing and structural change was emphasized. Many participants noted that institutional transformation was as important than the name change.
The name change was frequently identified as a moment for institutional redefinition: What does the institution stand for, now and in the future? What is the role of contemporary art now and in the future? There was a strong sense that the name should reflect what the institution does.
The institution was discussed as having been known as a bold, future-facing institution committed to experimentation in contemporary art. This was emphasised as a trait to hold onto. Words for these characteristics included; "being a forerunner", "community", "care", "kinship", "radicality", "trust", "bravery", "dialogue", "international", "Rotterdam".
A number of participants suggested that the old name should be acknowledged along with the process of the name change, either somewhere in the building and/or online. A similar number of participants asserted that the name and its history should not have any part in the future presence of the institution. (One participant specifically identified the destruction of Jayakarta linked with Witte Corneliszoon de With and its subsequent effects as a potential name and as a research project.) In the Dutch-language survey, some respondents communicated that, for them, the name "Witte de With" had become redefined by the reputation of the institution and they mourned the loss of this name even if supporting the name change itself.
The demographic cultural diversity of Rotterdam was often mentioned as an important grounding to the future shape and responsibilities of the institution. This was mentioned somewhat in English responses and frequently within Dutch-language responses. (49 out of the 134 participants of the Online Survey declared living in Rotterdam.)
Participants suggested to find a name that works in both English and Dutch; this arose across both English and Dutch-language responses. In the English-language survey, nearly all suggested names were of a neutral and conventional type: for example, "CCA", "ICA" or a variation on this. In the Dutch-language survey, there was a notable presence of variations of the previous name; for example, 'WdW' redefined, or "Zwarte/Wit".
Feedback examples, for when arriving to a new name:
"A change in programming that […] sets new boundaries and redefines culture."
"Your record of pushing contemporary art; you are a place where new forms and thinking are nurtured and taking place; be mindful of your scale – you are smallish but not boutique nor do you wish to be big; international focus but with strong anchor in Rotterdam."
"How and where the process of decolonization has been undertaken throughout the institution beyond the question of the name."
NCI WORK-GROUP
Formed in October 2019, the Name Change Initiative (NCI) Task Force meets on a weekly basis to discuss ideas, assign tasks and report on actions completed and pending. Begun in November 2019, these NCI General Staff meetings are the first-degree source of potential long-list and name concept typologies. The Task Force is led by FKA WdW's Director and chaired by its Research and Program Manager. These are the NCI Task Force members:
Name
Rosa de Graaf
line kramer
Sofía Hernández Chong Cuy
Jessy Koeiman
Jeroen Laven
Vivian Ziherl
Title
Associate Curator
Senior Technical Supervisor
Director
Curator of Collective Learning
PR & Communications Manager
Research and Program Manager
Years servive
4
29
2.9
2.4
4.3
1
Earlier-phase Members:
Paul van Gennip (Deputy Director)
Wendy van Slagmaat Bos (Project Coordinator)
Incoming-phase Members:
Aqueene Wilson (Collective Learning Fellow)
Cye Wong Loi Sing (Brand New Guys)
Public Input-phase Assistant:
Veronika Babayan (Mediator)
ABOUT OUR INSTITUTION
Mission
Our institutional mission is to engage the public in experiencing, enjoying, and learning from the latest developments of contemporary art and theory. We consider that regarding artistic expressions and philosophical inquires creates critical thinking that fosters mutual understanding amongst people and cultures.
Core Values
We have a disposition to Evolve. We are determined to catalyze. Our program is a gateway to the World.
Practice
To exercise our commitment, we present exhibitions, publications and educational programs of artistic merit and cultural significance; we also commission new art, support innovative research, and advocate for cultural partnerships. We do this while being responsive to artistic questions and theoretical issues of our present. These matters are contextually informed but geographically boundless.
Beliefs
To be experimental, we must engage artists that test matters as much as materials, even if their visions may not yet be fully comprehended now; to be contemporary, we must embrace diversified audiences, multiple forms of knowledge, and sustainable forms of production; to be meaningful, we must be responsive and responsible, insightful and eloquent, daring and sensible, lively and caring.